Windows 8 Feature: 'History Vault' user interface revealed.
While Microsoft prepares Windows 8 for the tablet wars, it's also reportedly taking a page from Mac OS X with a feature called "History Vault."
According to Winrumors, History Vault will be an advanced backup utility similar to Time Machine for Mac OS X. The system will create regular, automatic backups using Windows' existing Shadow Copy feature.

Although users of Windows Vista and 7 can already go back in time with System Restore, History Vault will reportedly be more advanced. Users will be able to restore individual files to earlier timestamps, and the system will offer a graphical user interface for editing and restoring old documents, Winrumors' unnamed source said. Apple's Time Machine uses a cover flow to sort through restore points, but it's not clear what Windows 8's
History Vault interface would look like.
Much of the OS itself, however,

remains a mystery
. We know Microsoft is creating a version of Windows 8 for tablets that's compatible with ARM processors, and rumors point to an interface that borrows the tiled look of Windows Phone 7. But in terms of concrete features, Microsoft is staying silent for now.
Whether the rumor about History Vault is true or not, it's nice to hear some chatter about Windows 8 features for plain old laptops and desktops. Don't get me wrong, I'm excited about tablets, but traditional computing still has plenty of life left -- at least enough to merit some new features in Windows 8.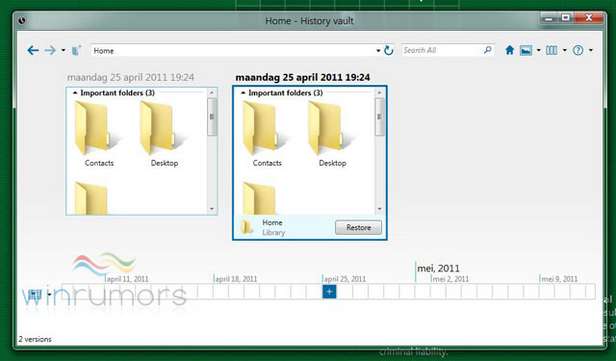 Microsoft is currently working on a new feature for Windows 8 named History Vault.

The feature will allow Windows 8 users to backup files and data automatically using the Shadow Copies function of Windows. The backup feature will include the ability to restore to a specific time or date on

the system

. Users will also be able to select files and restore them to different timestamps.

WinRumors previously revealed the existence
of the feature last month. Fresh screenshots are now emerging thanks to a recent leak of Windows 8 build 7955. The new screenshots show a special interface specifically designed for users to look back at previous files.

Apple's Mac OS X currently includes a similar feature.

Time Machine

allows users to turn the clock back in time and retrieve data and files that have been previously edited or deleted. Microsoft's History Vault is believed to be a rival to Apple's Time Machine and will include similar functionality. Microsoft has had similar restore capabilities in Windows since Shadow Copies was introduced in Windows Vista. History Vault is set to expand on the underlying services and provide a full GUI for restore and editing purposes.